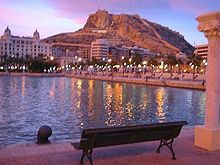 Alicante Province is one of the most expensive places in Spain to buy petrol.
According to average figures corresponding to January, the province registered €1.414 per litre of gasoline, behind the Balearics (€1.45), Valladolid (€1.421), Cordoba and Leon (€1.416).
The cheapest places to buy petrol was in Zaragoza where it cost an average €1.34 per litre.
The Balearics also proved the most expensive for diesel at €1.373 per litre whilst Zaragoza was the cheapest (€1.285) followed by Navarra (€1.288).
Many of the pricing differences are due to the taxation applied to fuels varying from each autonomous region.