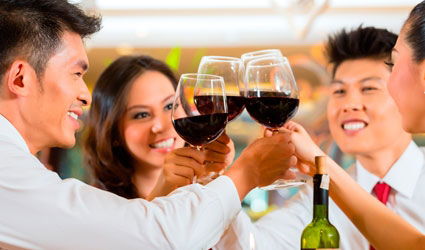 CHINA has become the world's number one consumer of red wine, overtaking both France and Italy, according to London-based wine and spirits trade association VINEXPO. 
Red a lucky colour for both China and Spain 
With sales of 1,865 billion bottles of red sold last year, the Chinese increased consumption by a massive 136 per cent in the last five years.
Apart from growing affluence, the surge may be attributed to China's cultural preference for the colour red over white, as in China red is the colour of good luck while white is the colour of death.
This bodes well for Spain as it tries to figure out how to maximise its potential in this massive market of the future.
In fact, China is the focus of the 6th annual Diam Bouchage conference in Logroño, La Rioja on April 9.
Supported by the Rioja Association of Oenologists (wine scientists), Diam conferences are attended by Spain's wine sector professionals to discuss varying industry themes like technology in international markets; sustainable viticulture and oenology; and wine tourism.
This year's conference will highlight making and selling the best wines in the high-stakes Chinese market.
Demei Li, one of China's top winemakers and among the top wine scientists in the world, is planning to present.