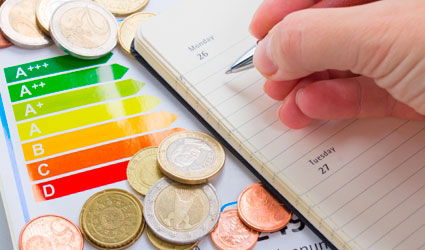 THE Madrid Land Agent's Association has suggested the government should provide tax incentives to energy efficient buildings.
These would include a reduction of the IBI, or property tax, and a discount on the personal income tax for the most energy efficient buildings.
It also proposed the creation of annual financing plans to allow residents' associations to pay for the necessary work to make their building more efficient with a low interest rate.
The Madrid Land Agent's Association considers having a single Energy Performance Certificate (EPC) for a building, although not compulsory, is better as it gives access to grants by the Energy Saving and Diversification Institute (IDEA).
The IDEA currently has a grants program budgeted with €125 million to promote energy efficiency and the use of renewable energies in houses.
Having an individual home energy certified is compulsory in order to sell or rent it, or if it has been recently refurbished.
An EPC doesn't necessarily imply that a property is energy efficient, but it provides valuable information in order to improve this aspect.
Properties are rated from A (most efficient) to G (least efficient), and this rating could have an influence on the price of the property.
The more energy efficient it is, the more valuable in the market it would be.