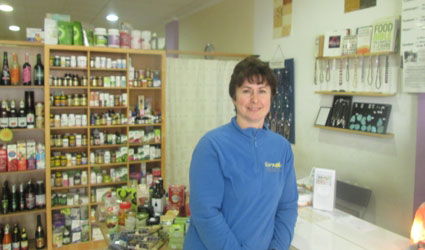 CLAIRE of Girasol Health Food Shop and Community Centre in Calle Malaga Albox is coming up to eight successful years of trading.
Girasol continues to go from strength to strength and Claire has gradually established herself as the person to seek for advice on which supplements will suit your needs, be them for health, dietary or nutritional.
Girasol stocks an extensive range of vitamins and mineral supplements
with products that are exclusive to Girasol and will not be found in any local supermarkets.  Claire is happy to give advice on which supplements are best for your ailments and appreciates feedback from customers to help to continue to provide the best advice.
Girasol stocks a whole range of nutritional foods and supplements such as the popular Japanese foods, fresh tofu, soya yoghurts and the widest range of bread flours to bake home-made breads.
Other popular ranges include a range of beneficial, healthy teas with more than 100 to choose from. Girasol also stock pumpkin, linseed, sunflower and sesame seeds as well as dried fruits and berries.
Claire is a mine of information for good cooking tips using healthier alternatives to traditional cooking methods and is happy to see that all the top TV Chefs are using many products that are sold in Girasol such as rapeseed oil, an alternative cooking oil which contains less saturated fats and fewer calories.
Girasol stocks local honey from Taberno and a range of semi precious jewellery which many people believe have healing properties.
Attached to Girasol is the Community Centre, the room is available for private hire and hosts a whole range of activities during the week. Children's activities include on Monday afternoons Karate, Thursday afternoons sees cheerleader gymnastics and a street dance class and Saturday mornings there are gymnastic classes.  For the Adults on Monday and Thursday there is pilates, Tuesday has art classes and Wednesday yoga classes and salsa-cise.  Friday is given over to Spanish lessons. New mosaic workshops are now available for adults and children.
Also new to Girasol is a computer health screening service, this is available by booking an appointment and will give people the opportunity to have a full health check with computer printout and nutritional advice.
For more information on any of the health products and activities please contact Claire on 639089170 or e-mail enquiries to alboxgirasol@hotmail.com. Girasol is in Calle Malaga, Albox. Open Monday to Friday 10am to 6pm and Saturday 10am to 2 pm.