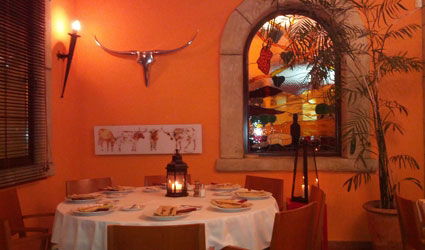 THE beautiful restaurant Longhorn in Benalmadena Pueblo has become established as one of the best steak houses on the coast. The selected high quality meat from northern Spain and also from Argentina prepared on a really hot grill can convince even the most critical customers.
And since the beginning of February the Longhorn is also open for lunch on Sundays. From 1pm to 5pm not the standard menu but a rustic BBQ Lunch for the whole family will be available. A mixed grill with best meat, homemade hamburgers and sausages from Northern Spain, Argentina and even the USA together with a salad and a baked potato is served. The guests pay once €16.50 (Children up to 12 years only €10.50) and can reorder grilled meat as long and as much they like. This very special offer also is available on Monday evenings from 6:30pm to 11pm. Bookings for this popular event are highly recommended!
For wine lovers Claus the owner recommends the new "Longhorn Rioja Crianza". This wine from the year 2009 has been 18 months in the barrel and the bottle is listed for just €13.60 in the interesting wine menu of the restaurant.
Interested in even more offers?
Tuesday to Saturday from 12.30pm to 2pm the redesigned 3-course lunch menu costing just €12 including one drink. You can also order an extra fillet steak for just €6.50 more. And if you prefer a light snack for lunch, you should definitely order the new lunch burger. Prepared with the best meat from northern Spain this delicious burger along with a freshly tapped beer or a glass of Cola is only €6.50. And whenever the weather is nice, the intimate tree-lined terrace of the Longhorn is of course available for all guests!
In addition to the known good food offerings Claus has introduced some new features in the Longhorn. Example 1: A "tasting menu for 2" offers four courses including dessert and they are served so that the individual plate is "shared".
A simple and economical way to get to know the Longhorn . Example 2: Since the beginning of the year all meat dishes are served to the guest including a tasty baked potato with either cream or herb butter. 
Opening hours:
Monday 6.30pm to 11pm
Tuesday to Saturday 12.30pm – 4pm and 6.30pm to 11pm.
Sunday 1pm-5pm
Reservation and information Tel 952560995
Website: www.longhorn-del-sol.com
Email: [email protected]