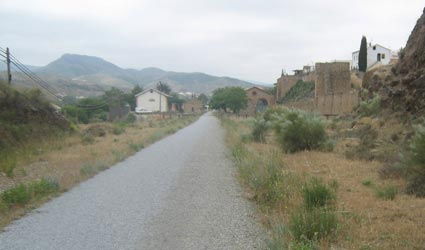 THE dream is becoming a reality. That is the summary made by the president of the Almanzora Valley Community of Municipalities, Antonio Ramon Salas, regarding the Via verde (Green route) that will run through the backbone of the valley.
A hitherto almost unattainable project that with determination and effort will start to become a reality in just a month and a half when work begins.
"It will become a benchmark for the Almanzora Valley because in its first phase it will offer visitors a fifty kilometre route down the old railway line," he explained. "We do not know exactly how much this first phase will cost but it will exceed €1million," said Salas who explained that the first phase of work will run in a stretch of about 50 kilometres from Hijate station to Fines.
The Mancomunidad has worked hard these last two years to accelerate this project. A job that has led them to maintain several meetings with officials in Madrid and ADIF (Railway Infrastructure Administrator) to accelerate efforts to unlock a project that is now starting to see light at the end of the tunnel.The first step taken by the Community was to get the transfer of land which  belonged to ADIF, having a length of 64.1 km and an area of 1,578,948 square metres which runs along the towns of Zurgena, Arboleas, Cantoria, Fines, Olula del Rio, Purchena, Armuña del Almanzora, Tijola, Seron and Alcontar.
This transfer took place in April 2012 and has a term of 20 years with an annual payment to ADIF of €16,300 plus VAT per year.