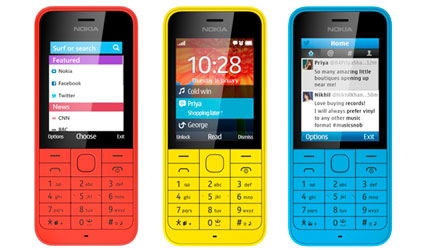 The Nokia 220 comes with Nokia Express Browser and Microsoft Bing search, It comes pre-loaded with the social media platforms Facebook and Twitter.
Nokia have also included an in-built MP3 player, video player and FM radio  (headset required), six high-quality Gameloft games- Asphalt 6 Adreline, Assassin Creed, Block Breaker 3, Brain Challenge 3 and Modern Combat 2 – come pre-loaded, offering even more fun on already-great devices.
Dual SIM
Nokia also designed a Dual-SIM model, which allows the possibility of inserting two SIM cards in the same device. This can be useful in a number of ways. Use one for business, the other for pleasure, one for Spain, the other for the UK, one International, the other for local calls only, do as you wish!
The Nokia 220 support GSM 900/1800 bandwidths and possess an amazing 13-hour talk time. The battery will enable you to playback your media for up to 51 hours.
Battery standby times reach 24 days for the Dual-SIM model and 29 days for the Single-SIM.
Aesthetic appeal
The Nokia 220 house a 2.4-inch color screen, a 2-megapixel camera and up to 32GB microSD card support.
Connectivity wise, the Nokia 220 has a micro USB port to transfer data and charge your phone and Bluetooth 2.1 with Nokia SLAM; a feature that allows you to share multimedia content like photos and videos wirelessly with nearby friends.
The design can not been mistaken for anything else than Nokia. The phone comes in a range of bright colours – red, black, white, yellow, cyan – with matching keypads. It's a robust phone, built to resist the rigors of everyday use.
The Nokia 220 will be priced at around 29EUR/39USD and the shipments to select markets will start pretty much immediately.
Clich here to find out more on Youtube