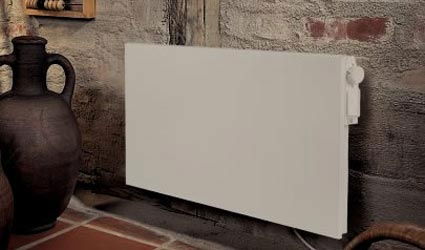 Neater Heater is pleased to be able to introduce you to the NEO 2 Heater from its new Norwegian supplier: ADAX.
"The original Neo heater has already proven to be an enormous hit." says co-owner Richard Winter "Its style and efficiency alone has made it stand out from the crowd, but when you include the inbuilt timer and automatic temperature reduction functions, it has become very popular."
"The next generation Neo 2, however, goes one step further as it has the ability to be both wall-
mounted and, simply by unclipping it from the bracket, free standing as well. Until now with most
heaters, including our other Neater Heaters, the customer has had to make a choice between wall-
mounted and free standing. But not anymore. Now the customer can have it wall-mounted in the
living room, and simply unclip it and move it to the bedroom at night."
Neater Heater was created five years ago because, having decided to use electricity to heat their
homes; expats Richard and Tony couldn't find anywhere in Spain that sold good, but affordable,
electric heaters. The choices were either: very expensive; very inefficient; or extremely ugly and
sometimes all three! However, by a stroke of good fortune, they became aware of two Norwegian
manufacturers who made extremely efficient, stylish, and affordable electric convector heaters.
Neater Heaters can now be found warming homes from Barcelona to Cadiz.
Incorporating modern technology with Scandinavian design.
Neater Heaters are stylish, economic and extremely efficient. Whether you choose the basic, but moderately priced, Adax Standard
heater, or from the more stylish Beha, Neo, and Glamox ranges, you can be confident that you are
choosing the best in Norwegian technology, reliability, and value for money. Now, thanks to the
Neo2, we can add "mobile and versatile" to their long list of attributes.
With the price of all fuels going up it is as important now, as it always has been, to choose your
electric heater wisely. Neater heaters offer the perfect balance of efficiency, economy,
and effectiveness.
Neater Heater: Norway's answer to heating your home in Spain.
For more information contact one of our stockists near  you.
NEATER HEATER DISTRUBUTORS: ALMERIA
BALSICAS/ SAN JAVIER:            Sierra Golf.                              Tel. 968 018 257
SAN JAVIER                            DFS Spain                                Tel. 968 334 194
MAZARRON Camposol B.           La Red Solutions. (Mapfre).           Tel. 968 199 025
ANTAS.                                 Lifestyle Enclosures                     Tel. 950 459 060
ROQUETAS DE MAR                 Almeria Relocations                      Tel  950 335 340 
Heaters also available for purchase at our online shop with free home delivery
WWW.NEATERHEATER.ES OR Tel. 634 312 171