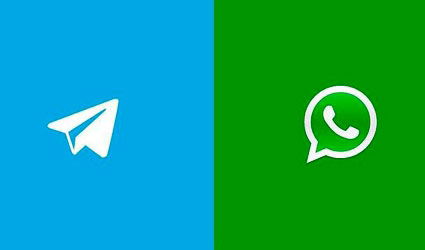 Following the implementations of some less successful services (Line, ChatOn, Viber…) the instant messaging service Telegram is growing fast with 200,000 new daily subscribers in Spain alone.
Unlike WhatsApp, which has numerous highly known security issues (bugs, possibility of "hackers" to intercept messages or steal user's accounts, constant blackouts), this new app puts the focus on safety. The slogan is actually "Taking back our right to privacy". Another quality is the ability to process messages at a high speed, as the servers are decentralised, the users can connect to the nearest one.
Temporary and secret chats
Both applications allow the exchange of messages, but Telegram , like SnapChat gives the option to send messages that self-destruct  after a certain time (two seconds, one minute or up to a month).
Free 
Aesthetically, Telegram is similar to WhatApp. One "check" icon tells the user the message has been sent, a second "check" tells them the message has been read. But one major difference is the price of the application.  Telegram ensures its user to never introduce advertising or a paying fee, WhatsApp includes a payment of 0.89 cents a year.
Chats in larger groups
Telegram allows chats in groups of up to 200 participants, WhatApp only gives the possibility to include 50 users. You can also send files of any format (not just photo, audio and video) up to 1GB and there is the possiblity to send several documents simultaneously.
Multidevice
Among other benefits, it can be used on multiple devices at the same time, not just smartphones.
Missing features
Unlike WhatsApp, Telegram does not have the option to send voice notes.