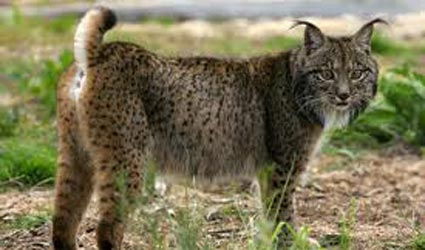 A leading expert wants Spain's national football team to adopt the critically endangered wild cat as its mascot to draw attention to the animal's precarious status.
Spanish conservationist Astrid Vargas suggested the idea that has been included in a new book published by the Spanish Society for the Conservation and Study of Mammals (SECEM).
Scientists, journalists, lawyers, actors, entrepreneurs, landowners, environmentalists and even hunters have come together to suggest ways to conserve the species, of which only 300 remain.
The Iberian Lynx (Lynx pardinus) is one of the most endangered mammals in the world
It lives exclusively in Spain and Portugal and experts say that if it were to become extinct, it would be the first feline species to do so since prehistoric times.
According to Spanish daily newspaper, 20 Minutos,  Vargas has an impressive backround when it comes to saving animals.
From 2003 to 2010 she led the first successful captive breeding programme for the Iberian lynx.
But the cat's numbers have declined due to loss of habitat, traffic accidents and the effects of disease on its main food source, rabbits.
There has been no official word that Spain's Football Federation is considering using the lynx but an informal campaign has been started by some journalists and campaigners.