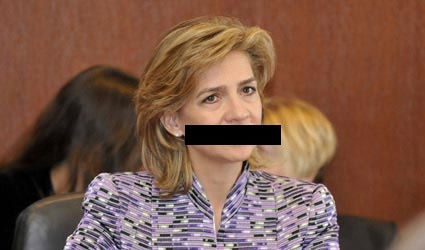 Princess Cristina answered "I don't know" 412 times during her appearance in court during the Noos case trial
A transcript of her appearance before judge Jose Castro in Palma court to answer to charges in the Noos corruption case reveals that she also said "I can't remember" 82 times, "I am unaware" on 58 occasions and "I didn't know" 14 times.
Her statement lasted six hours during which she mainly answered questions regarding the activities of Aizoon, the company created allegedly to hide the €6 million of public funds illegally obtained through the Noos Institute. She said she was unaware of what the company did, despite owning half of it with her husband Iñaki Urdangarin.
She avoided answering the judge on almost 580 occasions and claimed that she participated in the company because she trusted her husband and that she never had anything to do with its accounts.
An illegal video of Princess Christina's statement
A video of her statement was recorded illegally and a Malaga lawyer is the main suspect of having done so. The lawyer reportedly attended the hearing, however, he denies having filmed the images and the investigation is still underway.
Police visited the headquarters of Wouzee, the platform to which the video was uploaded, to request information on the user who did so, identified only online as 'Infanta.' The Duke of Palma could face between 10 and 19 years in prison for embezzlement, corruption, document falsification, fraud against the administration and tax evasion.
As many as 20 people may accompany the Royal son-in-law in the docks, although it is unclear whether his wife will stand trial or not. There are 43 people charged, but more than half are expected to be exonerated. If the princess is amongst them, there will be associations which will appeal this decision. The wife of Urdangarin's business partner, Diego Torres, Ana Maria Tejeiro, may also be exonerated by the public prosecutor but remain charged by the private accusations. The former President of the Balearic Government, Jaume Matas, is amongst those due to stand trial.