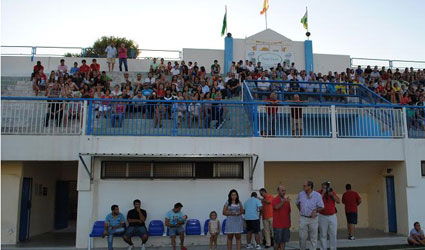 Goofy the dog that was allegedly thrown from the stands during a football match in Olula del Rio has turned into a world star.
Media in countries all round the world from the UK to Honduras have picked up on the surreal episode, reported in last week's Euro Weekly News, when a fan allegedly tried to throw the pooch, who was the pet of another spectator at the referee.
Goofy was reported to be hurt during the incident in which he fell between two and three metres, but has now been given a clean bill of health.
Clemente Domene is the fan alleged to be responsible. He faces charges of alleged animal abuse and violent behaviour at a sporting event.
Upset by the impact that this incident has had at national and international level, the fan of the Comarca del Marmol Club said the dog's 'flight' was the result of an accident and that under no circumstances was it intentional.
"We were in the stands all the time playing with the dog," he said. When the referee went to the visitors bench to ask several expelled players to leave the field, Clemente approached the railings "to see what was happening."
"People started screaming and the dog got scared and jumped out of my arms," claimed the 48-year-old from Macael. Nevertheless, he wanted to apologise "to the club, the referee, the fans and everyone who has been offended" by what happened during the Regional Preferente League match.