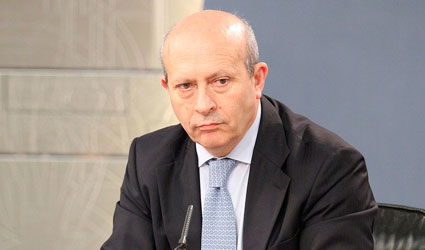 'Sr Wert regrets…'
JOSE IGNACIO WERT, hapless minister of Education, Culture and Sport missed the recent Goyas.
His diary was too full to attend Spain's 'Oscars' he announced beforehand but he would have stayed away if it had been as empty as Mother Hubbard's cupboard.
Disliked by all but his own party – and even there he has critics – he is repudiated for debilitating cuts to education and doing little for the arts.
"Making films in Spain is an act of heroism," declared a bitter Enrique Gonzalez Macho, president of Spain's Film Academy during the awards ceremony.
Last year's Goyas, which Wert was thick-skinned enough to attend, turned into an orgy of anti-Wert speeches, jibes, jeers and catcalls.  Not relishing a repetition, he stayed away.  Heroism is for filmmakers, not immensely unpopular ministers three months before the European elections. 
Keep calm
PRINCESS CRISTINA, younger daughter of King Juan Carlos, made history by being called to testify in Noos corruption case.
She and her lawyers were "delighted" with the chance to put the record straight regarding her involvement in her husband's business dealings.
The private prosecution's lawyer nevertheless declared afterwards that she was no wiser after the hearing than before it.
Beforehand, as the media waited for the royal car to turn into the back entrance of the Palma courthouse, the cameras trained briefly on an awning over a shop window.  "Keep calm and carry on," it recommended in English.
Spain's royal family is attempting to do this, but it remains to be seen whether the strategy will be successful.
Cristina's claim that she "trusted Iñaki" and "left everything to him" will endear her only to people who believed her in the first place.
Taken short
CLEANLINESS might be next to godliness but the 7,000 portaloos installed in Valencia city for Pope Benedict XVI's visit suggested incontinence.  They cost the taxpayer €2.65 million but few were used, although the Gurtel setup and the politicians in their pockets weren't worried about that.  Where there's muck there's money and that goes for portaloos too.
From the heart
DAVID CAMERON, rattled by the September independence vote, made an emotional appeal to Scotland to remain inside the UK.
This will be the real "in or out" deal and nothing like the referendum that Cataluña wants, which would ask whether the population wants an independence vote.
He had been advised to stay out of the Scottish issue and not to get sentimental about the UK, Cameron said, but he cared "far too much" to stay out of it.
Hard to imagine a similar plea and admission from Mariano Rajoy who appears incapable of making an emotional appeal to anyone, let alone Cataluña. He and the majority of monolingual Spaniards not only see the prospect of Catalan independence as an act of hostility, but as an insult too.