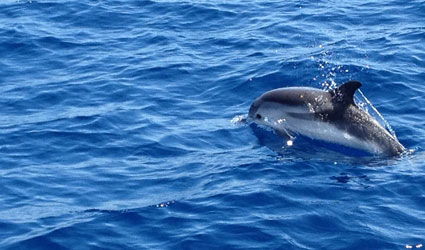 CALPE'S Sailing School pupils recently learnt about the marine life inhabiting local waters.
The talk organised by Calpe Yacht Club and international group Voluns, was given by the non-government organisation Xaloc whose experts told the young sailors about the whales, dolphins and turtles living off the Calpe coast.
Whales more than 20 metres long have often been sighted, they heard, while this part of the Mediterranean coast is home to three different types of dolphin.    The bottle-nose is the most common of these and live permanently off the north Alicante coast.  They communicate with other communities of dolphins living off the Balearic Islands, following the same Ibiza Channel route that is taken by yachts competing in the Peñon de Ifach trophy, the children heard.
There was also practical advice for the children on how to react should they encounter a dolphin or turtle while out sailing.