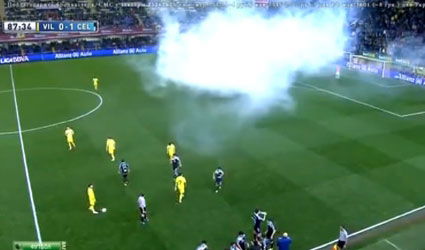 The match between Villarreal and Celta Vigo at the weekend had to be stopped when a tear gas canister was thrown onto the pitch.
Celta Vigo's Fabian Orellana had just scored the first goal of the match in the 83rd minute, when the canister, similar to those used in riot demonstrations, was hurled down to the pitch.
Smoke billowed around the stadium, leaving Celta goalkeeper Yoel Rodriguez Oterino red faced and choking and fans rushing to the exit.
The game was halted for 25 minutes, then resumed with the stands nearly empty. Celta Vigo managed to score again and end the game with a 2-0 win.
Villareal are facing disciplinary action which is likely to be a fine.