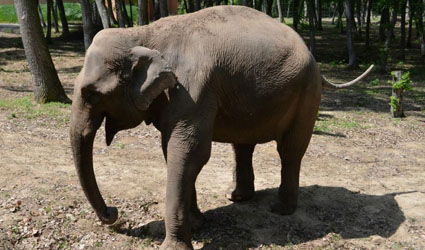 An orphaned elephant is looking for a new home, and a petition has been launched to rescue her from her current home in a zoo in Rumania
In 2004, Tania, now aged 39, had a home at the Terra Natura zoo in Benidorm. She had bonded with another female elephant named as Khaiso. However the zoo was in trouble financially and could not afford to keep her.
In 2009, Tania was transferred to Le Barben zoo in France, but the herd already living there did not accept her. Unhappily, it was the same story in Le Cornelle near Milan, Italy in 2011.
Tania's initial herd had been destroyed in 1978 when she was just three, she has been moved across Europe ever since in an effort to find a permanent herd for her to join.
Initially, the Indian elephant was sold to the Plaisance-du-Touch zoo in France and it became her home for the next 25 years. However the zoo sold her to Spain after finding it impossible to maintain the elephant financially.
Tania is currently living in Târgu Mureș Zoo in Rumania, where she has been living for over a year. She is said to be living in unsuitable, cramped conditions. A petition was launched in November last year that now has around 70,000 signatures, asking the EU to step in and rehome Tania in a sanctuary.
She is reportedly now showing signs of distress and campaigners are desperate to help her. Elephants can live for 60 to 70 years and are sociable animals which need to be with their own kind.  Campaigners are concerned that she may die if she cannot find a herd to live with.
A facebook page has been set up for people to follow her progress at https://www.facebook.com/FreeTania