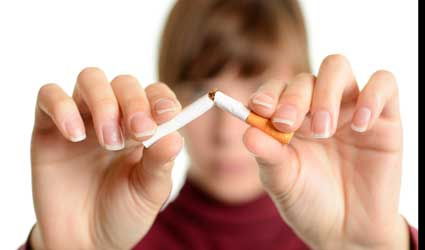 SMOKERS out there already know what a drain the habit has on spending. A regular smoker might smoke up to or more than three packets a week, and that can add up considerably over the course of months and years.
On top of that, the majority of us women spend a substantial amount of money on face creams, eye creams, serums and masks – potions and lotions to help maintain youthful features as long as possible. Yet with every cigarette smoked, it massively increases our chances of wrinkly and dull skin – so forking out on all the creams in the world is just a big waste of money!
Each person has the right to do whatever they want to their own body, but as much as anyone claims to love cigarettes, that-pricey-little-cancer-stick will eventually repay your love by making you ugly, with bags and wrinkles under your eyes. 
Giving up smoking isn't just about being responsible to your health and looks; it's about being responsible in regards to controlling spending, as well as setting a good example for future generations.
Wouldn't most smokers admit that they wish they had never become hooked in the first place? That's why targeting anti-smoking campaigns at children in the right way is so important these days. In America over $100 million is being spent on new anti-smoking advertisements aimed at frightening teenagers away from picking up the habit.
What does a pack of cigarettes cost? Your teeth, says one TV advert, which depicts a teenager buying a pack of cigarettes at a shop and literally pulling out a tooth with a set of pliers to pay for them.
It mightn't be a bad investment to release a similar campaign here in Spain where smoking is viewed with a relaxed attitude. Parents want the best for their kids and smoking doesn't only cost kids their health but it promises to be a constant ball and chain around their future finances too.