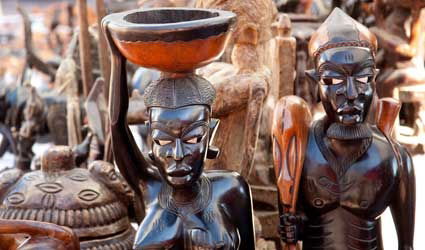 ---
By Herr Culo P ©
THESE days, their noticeable but unobtrusive presence hardly causes a glance. Just another black man with a bag of goodies over his shoulder hoping to sell you something.Anything!
At a blink they'll come over to your table and dump their wares. It's always the same old stuff, sunglasses, belts, hats, watches, (that work for three weeks) fake expensive brand name handbags (that don't fool anyone) and sometimes tall wooden giraffes or elephants. You've seen it all before. In fact, every time you meet them they unfortunately still have the same paraphernalia you saw last time, and the time before that. It barely merits a "look".
Of course, in the back of your mind you wanna buy something. You know, contribute to these poor souls trying to earn a meagre profit to send home to their starving wife and clothe less children (you presume). Your heart bleeds for them, such a difficult, loathsome and unfortunate being (you imagine). The whole scene transpiring before your eyes while you suck back a hearty and sumptuous lunch washed down by some tasty wine. Yet, you feel odd enjoying yourself while they observe you with sad white eyes staring at your brimming plate. Casually sipping another tinto you ask again to see their wares hoping your memory has forgotten something that you've already purchased thirty times. Mr. Looky keeps scattering it all out around the table in high anticipation that someone else will see a special item and instantaneously cherish it. All seated want to relieve his plight too so they can heave a great sigh and get back to a laughter filled lunch.
But, mon Ami, the Great Herr Culo P deduces something is cryptically wrong with the sorrow drenched scene. It's all been orchestrated from afar playing on your own well meaning.
First off, they all come from the same country: Senegal. Africa's a damn big place with zillions or poor, how come we get them all from just one place? There is no other nationality doing this. Ask yourself, how did they get from that distant spot to hear without a miracle or cooperate help? The recruits brought here are schooled to sell trinkets using mournful tactics. employees hand selected for the job, trained from a well oiled cottage industry with pre-stamped entry Visas.
Ask again Mon Ami how the poorest of the underprivileged have arrived from such a distance with a load of highly sophisticated watches all built for show and bling; equally crafted to work for a lifetime of three weeks. Where would these nowhere folk find such well presented contraptions to tote along their way? The hand carved wooden animals are crafted from laves that even cut the nicks and blemishes into the piece to fake authenticity. Put two of them next to one another and get shocked. Mon Ami, the phony sun glasses are sophisticated copies of the most popular street brand names designed for the popular temperament of the current age. What? all this from people from the furthest outposts of civilization? Knowing the trends and latest fashions? Colourfully woven intertwined belts with glowing buckles and rare gemstone earrings? All for sale having been lugged completely across Africa these unique individuals all end up selling the same exact items! Mon Ami, -PLEASE. I think not.
Become astute, there is something much bigger happening. A mighty hand in higher echelons is setting you up, playing the goodwill card. Mafia, or Political Fat cats maybe? Nevertheless, it is simply clever street extortion to message your REMORESEFUL FEELINGS.
Even Big Business is never too ashamed to beg for large free profits!