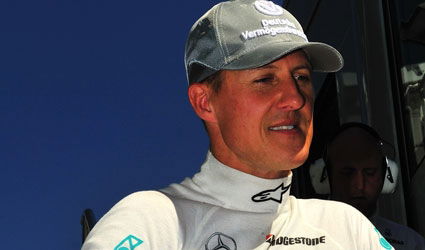 Formula One champion Michael Schumacher has developed pneumonia as doctors start to bring him out of the artificial coma he has been in since December last year. He is being treated with strong antibiotics as his doctors try to clarify how dangerous the infection is, the bid to bring him around has been interrupted as a result of the infection.
Schumacher has been in a medically induced coma for 46 days since being airlifted from the ski slopes of the French resort of Meribel after smashing his head on a rock.
Reports in the German press have said that Schumacher, 45, developed the lung infection last week at the University Hospital in Grenoble. His spokeswoman Sabine Kehm has so far refused to comment on the report, saying only it was "speculation, and I do not comment on speculation."
Pneumonia is one of the biggest threats that can affect patients in the same medical state as Schumacher. The lack of an able swallowing mechanism can make saliva run into the lungs and trigger the potentially lethal respiratory infection.
Andreas Pingel, medical director of the Centre for Spine Surgery and Neuro-Traumatology at the BG Hospital in Frankfurt told German press last week:  "About 30 to 50 percent of all patients who lie in a coma as long as Michael Schumacher get it."
According to medical sources, there have been no facial or bodily responses to his environment, his reflexes are tested on a daily basis. He receives food through a tube to his stomach, oxygen via a hose as he still cannot breathe independently. Three times a day his joints and muscles are massaged to prevent atrophy and bed sores.
The coma suppressed his swallowing reflex, pain perception and his respiratory drive. He is acutely monitored around the clock during this wake-up phase.