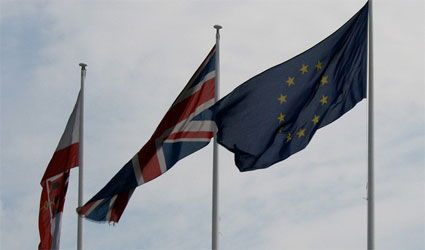 The latest in the long-running Gibraltar saga comes as Spain makes an extraordinary claim that the Rock is not even part of the European Union
It is a well known fact that Gibraltar signed up to the EU back in 1973, before Spain. It even flies the EU flag at the entrance to the country, nicknamed 'Britain in the sun'.
However on Monday, during a question in Spanish parliament a claim was made that was it is not so. A member state has filed complaints against Gibraltar with regards to state aid, tax and free movement in and out of the territory.
This all comes in a week as Gibraltar Government officials are visiting the European Commission, and after Brussels sent an official EU delegation to Gibraltar in order to assess the frontier situation.
According to reports, the Gibraltar Government has retaliated saying that the Spanish view was totally incorrect and confirmed that they are, indeed, part of the EU, albeit under a different provision of the Treaty to Spain and the UK.
Chief Minister of Gibraltar also confirmed that Gibraltar is up to date with its EU obligations and would continue to be so.