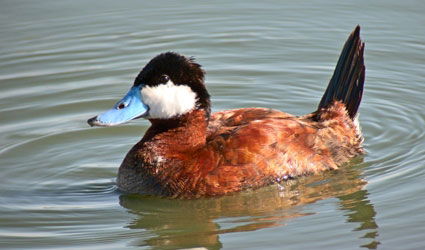 The British ruddy duck is ruffling some serious feathers in Spain – it would appear that the promiscuous duck is having more than his fair share of sucess with the opposite sex, and it has landed him in deep water. 
Apparently the Spanish white-headed female duck likes a touch of the exotic, much to the dismay of her male counterpart. There are now so many cross-breed ducklings around that the white heads are in danger of being bred out of existence. Officials in Spain have intervened complaining about their native birds survival,
To try and calm the situation, British ministers have spent the last ten years and £4million trying to slaughter the ruddy duck and on Monday is was announced that another £120,000 of taxpayers' money is to be spent to permanently exterminate the British species.
It is estimated that there may be as few as 100 ruddy ducks in England, Wales and Scotland, and each duck has a £2,500 bounty on his head. The destruction of the ruddy duck was ordered in 2003 by the Department for the Environment, Food and Rural Affairs following protests from Madrid.
So far around 5,500 ruddy ducks have been destroyed causing anger among British conservationists, bird lovers and landowners. But there are still populations of ruddy ducks in France and the Netherlands, so the frustrations of the male white ducks could still be set to continue