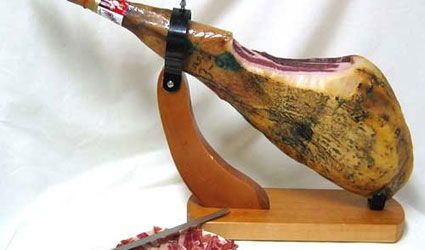 SPANISH hams are a popular choice at the supermarkets but do we really know the difference between our 'jamon Serrano' and 'jamon Iberico?'
Serrano ham is traditionally from pigs in hilly or mountainous countryside and usually comes from the landrace breed of white pigs. The curing process starts with the ham being tucked between layers of sea salt and curing salts for a few days before they are hung and aged for some 12-14 months. During this time, a specialist will regularly pierce the ham and smell it to ascertain its quality. At the end of the curing process, the hams will have lost as much as 40 per cent of their original weight with the meat now being dark-red in colour.
Jamon Iberico comes from the black Iberian pigs, also known as pata negra (black hoof). They eat a free-range diet and it is this diet that makes their ham superior to that of the ordinary Serrano pig. They also have a longer curing process of 18 months to three years. Free range pigs fed on an acorn diet produce the best quality hams.