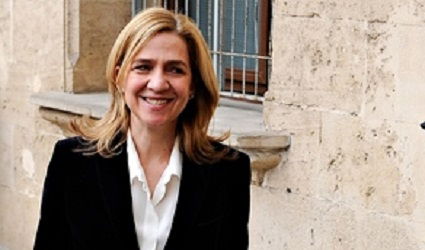 Princess Cristina was questioned in court on Saturday for nearly seven hours; it is the first time a direct member of the Spanish royal family has been summoned.
Her husband, Iñaki Urdangarin, has been accused of tax fraud and money laundering; the princess was questioned regarding her knowledge of the alleged crimes.
Arriving at the court in a plain unobtrusive car, Princess Cristina was taken to the back door of the Court, avoiding the long 40 metre walk to the main entrance. She smiled at the waiting camera crews as she entered the court building. A crowd of 200 police officers and 400 hundred journalists were waiting outside the court building.
Cristina was asked about personal expenses which had been charged to a company credit card. Allegations have been made that the company, Aizoon, may have covered up money laundering activities of up to €6 million. The money is believed to have been acquired via non-profit organisation Noos, which is run by Urdangarin and a business partner, Diego Torres, who face potential charges of tax evasion, embezzlement and falsification of documents. Princess Cristina is not being charged in relation to the Noos case.
It has been alleged that expenses charged to Aizoon include renovation of their home in Barcelona, a cocktail party and dancing classes.
The princess stated in court that she trusts her husband and has faith in him. She said was not aware of any irregularities in their finances. She had spent days in Barcelona preparing for the appearance; answering "I don't know" or "I can't remember" to many of the questions.