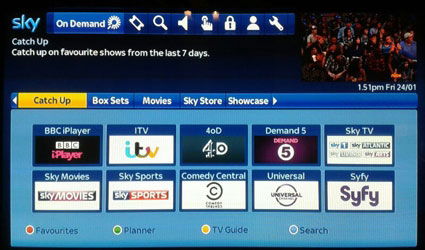 THE much awaited move of the Astra2E satellite is happening NOW.
Many expatriate viewers across Spain have been awaiting the move to see what effects it will have on them getting their favourite UK TV stations.
Astra 2E should be approaching its final broadcasting position about now – it started the move two weeks ago – then there will be a few days testing before it starts to broadcast.
The big question is what to do if viewers find they cannot access their TV services anymore.
Fortunately at Base Satellite we can offer different options to continue viewing UK TV – which also have advantages over traditional satellite TV in terms of reliability of service, particularly in bad weather conditions.
If you have Sky+ HD or are already a Sky subscriber you can get the content of the channels you may lose via Catch Up in the Sky On Demand service and watch them on your big screen TV using the same Sky remote that you are used to. To do this you need:
A Sky+ HD receiver with a Sky subscription card (we can supply)
A UK TV Router (We supply) "position changed"
A method, either via cable or wireless to connect the Sky box to the UK TV Router (we can supply)
A satellite dish which allows you to get Sky's on screen TV Guide
A broadband internet connection. 2mb speed is good but you can get away with less
Sky on Demand includes the BBC iPlayer, ITV Player, 4oD, Five on Demand to watch on your TV. It works by downloading (not streaming) the programmes to your Sky+ HD box to watch at your leisure. Normally (depending on internet speed) you can start watching the programmes within 30 seconds to a minute from when you start the download.  And of course you will get the Sky channels you subscribe to. This is a huge advantage over other Internet TV providers' streaming and buffering service which can be unreliable and prone to freezing especially at peak times.
We can also supply Now TV from Sky, which does not need a Sky subscription, dish or digibox.  You need broadband internet with a speed of at least 2.5mbps, a TV with an HDMI connection port, a Now TV box and a UK TV Router, all of which we can supply.
The UK TV Router also gives you a new, additional wireless network with a UK IP address, allowing you to watch UK TV (LIVE and catch-up) on ipads, laptops and any other devise you would use if you were in the UK.
To find out more go to www.uktvrouter.com or contact us by phone:
Base Satellite
Sales Equiries: (34) 667 427 271
Office: (34) 962 800 807 (09.00 – 18.00.)
from Spain only: 902 887 301 (09.00 – 18.00)