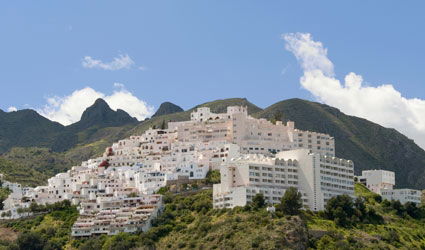 A ROW has broken out after Mojacar was snubbed in a tourism promotional video featuring international singing star David Bisbal.
Three local groups have spoken out and criticised the Provincial Tourism Board after the town was omitted from the promotional video that was recorded with the Almeria born singer.
First to speak out was PSOE councillor Manuel Zamora followed by Izquierda Unida and Mojacar Positiva Se Mueve (MPSM).  Zamora said: "The video of the Provincial Tourism Board, which, by the way we all pay for as members, is generally pretty good, but at least one sequence from Bisbal should have been recorded with our people. Our town is a pioneer in tourism at provincial level."
The video shows a brief image of the Playa de Los Muertos in Carboneras but fails to highlight any other coastal towns along the Levante coast. Izquierda Unida and MPSM go further, and say that "it is an unforgivable mistake and a real shame not to be part of it" saying the responsibility lies with, Javier Aureliano Garcia, chairman of the tourist board who praised the agreement signed with the Almeria singer.
Garcia visited Mojacar when it was officially declared one of the prettiest towns in Spain. Speaking at the launch of Bisbal's world tour, Garcia said there will be millions of people who will have immediate access to the image of the Costa Almeria. However those millions of people are failing to see Mojacar as a tourist destination in the province. 
By Stephen Lear