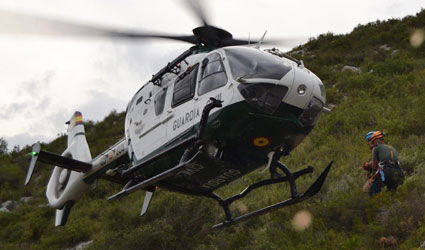 THE Valencian emergency services are going to charge for avoidable rescue operations.
This recent regional government (Generalitat) edict is particularly aimed at people responsible for forest fires as well as potholers, climbers or hikers who ignore bad-weather warnings.
They endanger the lives of the people they call to come and save them,
said the regional government's Interior department. "They will have to compensate for the cost of mobilising the resources of essential services,"
The edict applies to all services – with the exception of ambulances – at the other end of the 112 emergency numbers.
Practical jokers who raise false alarms must now pay the cost.  So will anyone requiring rescue or evacuation from leisure activities in restricted areas – swimming in a reservoir where there is a signposted ban, for instance.
Any sporting event like motor-racing that triggers a forest fire but lacks protection cover will also have to pay up, according to the Generalitat directive.
Hard-hitting regulations are particularly important for preventing the wildfires that in 70 per cent of cases are caused by carelessness, the regional government said.  Unintentional fire-raisers will pay €9,000 if the fire is quickly extinguished but more than €26,000 if this takes a day.