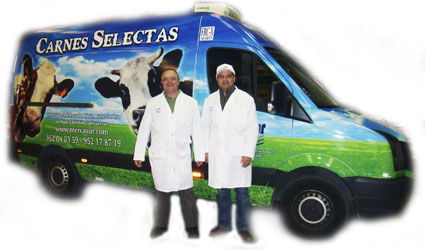 MERCASUR offers the highest quality meats from various countries to a range of clients, always with a total guarantee. The company was founded by Jose Ariza and Jorge Ayala, two friends with extensive experience in the business who took on the challenge to launch Mercasur.
Since its founding in 1998, few could have foreseen its remarkable growth resulting from strong family values, hard work ethic, great market sense and keen vision for the industry. Mercasur has grown to be the largest wholesaler of imported meats in all of Andalucia and most of Spain. 
Entering the Mercasur warehouse outside Malaga, the ambiance is one of energy, camaraderie and passion for the business. The warehouse is a bustling 1700 square metres housing over a dozen fleet trucks and a growing personnel. The facilities, located near Mercamalaga in the Trevenez Industrial Estate, are in strict compliance with the highest public health regulations.
Though a Spanish company, Mercasur is not by any means limited to Spanish meats. Quite the contrary, it prides itself on continually offering the very best selection of cuts from all over. With so many foreigners in southern Spain, Mercasur knows the importance of providing a wide variety of excellent meats. The very best of Irish, German, French and Danish prime beef and cuts are on offer, as are Irish lamb, New Zealand lamb cuts, and specialty veal from Holland. Furthermore, Mercasur produces its own in-house #1 quality English-style sausages with products considered to be the best in the industry. And of course they also proudly carry a large selection of Spain's own quality meats.
One of the company's stand-out qualities is that its experts and personnel are trained and certified with the Manchester Rusk Company, having gone so far as to create new flavours as they strive to evolve and maintain their standing as the most competitive in their business.
Clients include wholesalers, restaurants, hotels, and bulk consumers. Boasting excellent relations with their clients, hand-in-hand with offering outstanding products and delivery conditions, Mercasur is a fine company with which to do business.
Mercasur
Poligono Industrial Trevenez – El Tarajal
29196 Malaga
952 040 359