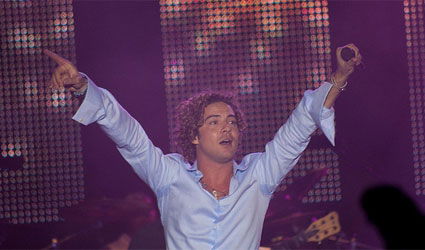 ALMERIA musician David Bisbal has lent his image to a  promotional spot for the brand Costa de Almeria.
Within the first 24 hours the video received more than 70,000 hits on You Tube. David Bisbal presents his new single in the video 'Diez mil maneras' from his new Album 'Tú y yo.'
The International Tourism Fair in Madrid, (FITUR 2014)  provided the framework for the presentation of the most ambitious campaign in the history of the promotion of Almeria tourism which has been placed in the hands of  the most international of Almeria entertainers in singer David Bisbal.
The magnitude of the campaign was such that it was necessary to change the venue to the Fine Arts Centre in Madrid, where a double presentation took place, namely the Costa Almeria promotional spot and David Bisbal's world tour.
David Bisbal has been described as a media phenomenon with more than 16 million people following him on the social networks in which he operates and he has always been a proud ambassador of Almeria.
The collaboration with  Costa de Almeria means that the brand will be promoted at every concert throughout the world tour with publicity and videos. The video can be found on You Tube by searching for David Bisbal y Costa Almeria: Deslumbrante.