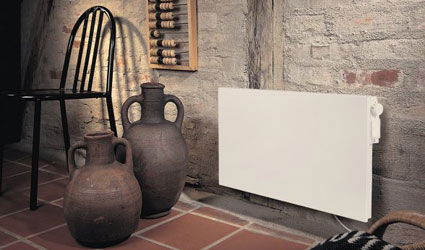 For the last five years Neater Heater has been providing its customers with the best, and smartest, electric convector heaters in Spain. The BEHA heaters from Norway are elegant, efficient and economical to run. With the recession still biting hard for most people, Richard and Tony decided to try and offer their customers greater choice by offering them a similar quality heater for less money. Now they do!
Neater Heater is delighted to announce that it is now the sole direct importers to Spain of the Norwegian ADAX range of electric heaters. "It is a very exciting time for us" said Richard Winter. "The ADAX standard panel heaters offer the customer a cheaper option to the stylish BEHA heaters, without compromising on the running efficiency and reliability that we have come to associate with Norwegian systems."
Neater Heater can also offer the stylish Neo range for people with a more colourful outlook on life. At the moment the customer can choose to have their Neo heaters in one of six colours: White; black; silver; red; pink and light blue. However; plans are afoot to introduce a far greater selection to choose from.
"By offering the Adax range as well as the Beha range, we believe that we have all bases covered when it comes to electric convector heating". Explains Tony "Customers can now browse our web site, or visit one of our distributors, and select a heater that totally suits their circumstances, whether it is  a stylish Beha or Neo heater or a more utilitarian, but cheaper, Adax standard panel heater."
For more information on Neater Heater:
NEATER HEATER DISTRUBUTORS:  COSTA BLANCA NORTH
MORAIRA: S&W, The Tool Bar. Tel. 965 745 805
JAVEA : Connect 2 Spain, Javea Port.Tel. 966 460 133
CALPE: K & M's Electro Domesticos. Tel  965 874 838
CALPE: Imprint, Avda Gabriel Miró. Tel. 965 874 451
ALTEA: Leo's Superstore. Tel. 965 844 848                                      
Heaters also available for purchase at our online shop with free home delivery.
www.neaterheater.es OR Tel. 634 312 171