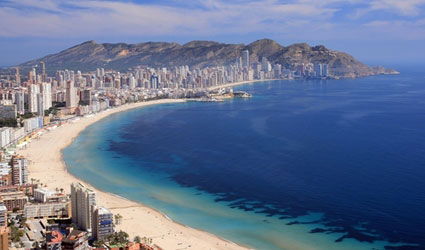 BENIDORM anticipates an audience of 72.6 million for its 2014 publicity campaign.
The bulk – an estimated 71.4 million – will be British revealed local mayor Agustin Navarro. 
Speaking in Madrid during the recent Fitur trade fair Navarro, described in detail the resort's different publicity operations.
The 23 different media promotions, which have a €200,000 budget, include 25 half-minute television spots on Sky's "Holiday and Cruise Channel" aimed at 14 million viewers.  The same channel will air an interview with the director of Benidorm's Tourist Board, Yolanda Pickett Fernandez. 
The town will appear in Take A Break magazine as well as the Daily Mirror's "Holidays and Getaways" supplement and the National Geographic Traveller.  Advertisements are also due to appear at rugby pitches, following an agreement with the Rugby Super League and Challenge Cup.
Benidorm's existing arrangement with the Jet2 airline with its weekly 623 Alicante flights continues with a shared advertising campaign on several Sky channels in March.
This is Benidorm's most ambitious campaign in recent years, said Navarro, who stressed the loyalty of UK visitors and their importance to Benidorm.