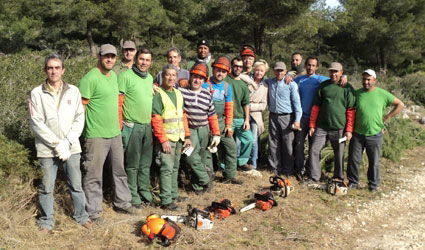 THE second phase of Javea's social employment programme has ended.
The two groups of 15 workers employed for three-month periods did "a grand job," said Javea's Environment and Services councillor Doris Courcelles.
They contributed to fire and flood prevention by clearing river and stream beds, cleaning up municipal land, green spaces and 30 paths in the Costa Nova and Montgo areas.
The brigades created 800-metre firebreaks on the Tossal and Granadella's Cami Vell and lopped the overgrown pines that Javea residents complained were obscuring their view of the Santa Llucia chapel.
Both Courcelles and Javea mayor Jose Chulvi expressed their satisfaction with the successful programme that has helped the families of 30 long-term unemployed who were in a difficult economic situation.
The 18 workmen and 12 foremen received respective gross monthly salaries of €1,156 and €1,224 for the duration of their three-month stints.
He will do everything within his power to repeat the socially-orientated programme in the coming months, Chulvi said.