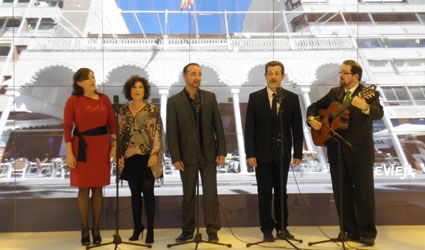 FITUR Travel and Tourism Fair in Madrid has been represented by towns and cities across the Costa Blanca.
Visitors included the Torrevieja delegation which promoted the forthcoming 60th edition of the International Contest of Habanera and Polyphony, an event which has been declared of 'International Tourist Interest', with a small choir from Torrevieja offering a short concert.
Mayor Eduardo Dolon also presented a new product of health tourism with Hospital Quiron and El Corte Ingles Travel Agency. Under the slogan 'Healthy Holidays Torrevieja increases your well-being and quality of life' the Chiron Torrevieja Hospital will launch a customised plan of health checks by specialists using the latest innovative technology covered in the new European directive that allows health care in any EU country.
The mayor also held a meeting with the director of Sports TVE, Jesus Alvarez, who is interested in the facilities of the Sports City as they discussed possible ways of cooperation in order to realise some sort of sports competition which can be retransmitted by TVE.