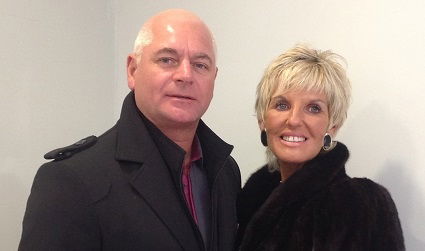 EURO WEEKLY NEWS directors Michel and Steven Euesden finally got their day in court to fight the attacks of the founder of The Entertainer, Lenox Napier.
Napier, now based in Mojacar, Almeria, subjected them to years of written insults and attacks online, an Almeria court heard.
He claimed that the Euesdens had stolen from him the brand 'The Entertainer', the newspaper which he founded and which preceded the Euro Weekly News (EWN). However, evidence was presented in court to prove that the brand he sold them did not belong to him and that it was mortgaged.
Upon becoming aware of these two facts, the Euesdens decided not to go ahead with the option to buy, but not before they had already paid more than €500,000, the court was told.
In addition, assets of Napier's company, Paperweight SA, were allegedly hidden to avoid outstanding creditors.
None of this information had been made available to the Euesdens upon entering the agreement. It was also proved in court that all monies agreed for the rental of the brand were paid in full, although this was never notarised.
Napier got The Entertainer brand back, but the money he had been paid was not returned to the Euesdens, who also had to pay off hundreds of thousands of euros in debts hanging over the newspaper.
The Euesden's suffered numerous attacks online
They then had to endure a campaign of personal and professional attacks while starting anew to make EWN the strong media product it is today.
In court, Napier refused to answer the questions put by the prosecution, and is facing two years in prison for defamation and fraud. At this time, EWN is seeking no monetary compensation for damages.
Despite his claims that the brand was 'stolen' from him, Napier never took the case to court, and instead insulted the Euesdens, although his defence claimed that words such as 'a**holes' and 'fraudsters' have been 'misinterpreted'.
His section 'Weenie Watch' written on his website in an attempt to discredit them, was removed in 2010 under a court order, as it was defamatory not only against them but also the hardworking, loyal team at EWN.
He posted false accounts of their financial status online and insulting emails were sent to individual clients of EWN written to appear as if they came from Steven Euesden.
Michel and Steven are confident Justice will prevail
Despite how damaging this hate campaign was to advertisers and the EWN brand itself, the Euesdens never stooped to his level. They have received no support from the local press, they have trusted in their co-workers and the Spanish legal system. Although it has been a nerve-racking experience, and a led to a long period of suffering, they are confident that justice will prevail.
More information will follow, but in the meantime, the Euesdens and all the team at EWN want to thank their loyal advertisers and readers, as without them, they feel they would have given up the fight long ago.
Contrary to what has been published on another news website, regarding Napier describing the Euesdens as 'pornographers' because they ran the 'Contact' magazine, Michel did not say in court that they owned several magazines of a sexual nature, but that the media group had at one time published several magazines covering different subjects, one of which was the one mentioned, and all of which were later sold.