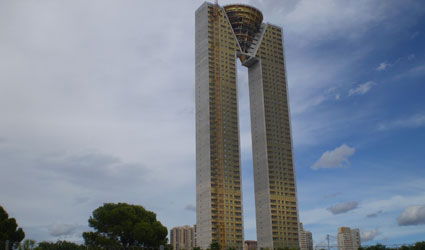 PROBLEMS continue to beset Benidorm's InTempo tower.
What will one day be Europe's tallest residential building, at 200 metres and 55 storeys, is practically finished but 70 per cent of its 269 apartments are unsold. 
Promoters Olga Urbana are deep in debt and burdened by a €93 million loan from Caixa Galicia. It now one of the toxic assets acquired by Spain's "bad bank" Sareb.
One buyer, tired of waiting for a finished apartment promised in 2009, is suing Olga Urbana for the return of the €133,750 that he has already paid.  He also wants €37,361 in compensation.
If Olga Urbana does not have the wherewithal to repay his client it is now necessary to look towards its credit from Sareb.  This is the only source of liquidity to guarantee the claim, said lawyer Mario Torrubia.
A Benidorm court has accepted this formula, although Olga Urbana sources insisted that this is a precautionary measure.  Neither a verdict nor sentence has yet been announced, they said.