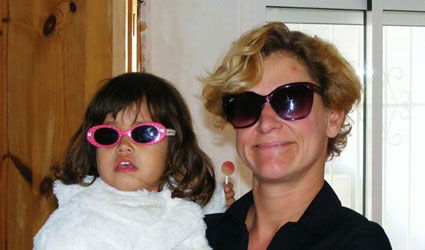 A COMMUNITY, united in grief, has raised almost €5,000 to help the husband of the woman who was killed in a crash on the N-332 at Torrevieja on January 15.
Fredy Sanchez Escobar lost his wife Eva and two-year-old daughter Laura, who he called his 'princess', in the accident. The local community has rallied around Fredy and an outpouring of love and support has come through. Family friend Eva Nemeti arranged a fundraising event at La Fuente Commercial Centre, Campoamor.
With proceeds from the day and donations from individuals and businesses, she said €4,723.86 has been raised so far: "Fredy's goal in life was to support and protect his family, it was his biggest treasure. Everyone just wanted to do something for him and to help, we know we cannot bring them back but it is important we help him now."
The couple met over five years ago in the UK when they both worked in a hospital and were now renovating a house they bought together in Campoamor to bring up their daughter. Speaking of the support he has received, Fredy said: "Words cannot express my feelings, nor my thanks for all your help."
Eva has set up a Facebook page 'To help Fredy in memory of his wife Eva and daughter Laura' where a full list of thanks can be found to all those who have donated and helped. Eva can be contacted directly through this page for those wishing to make a direct donation. 
By Gemma Quinn