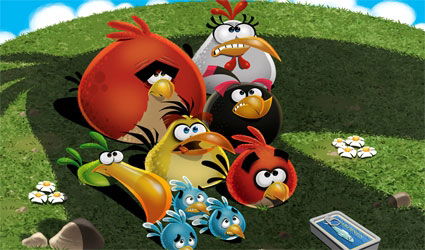 SPY agencies are using Angry Birds and other mobile applications to glean personal data, according to new revelations from the Edward Snowden documents.
A report published by The New York Times and The Guardian states that the National Security Agency in USA and GCHQ in Britain have been working together since 2007 to develop methods of accessing information from applications for mobile phones and tablets.
Angry Birds is a hugely popular game, which has been downloaded more than 1.7 billion times; it is one of many iPhone and Android apps which can leak private information across the internet, such as age, gender, location, websites visited and contacts, as well as phone model and screen size. Other apps can share more sensitive information, such as sexual orientation or preferences.
Reports suggest that the data is gathered via mapping, gaming and social networking applications; identifying information regarding networks the phone or tablet had connected to and data about downloaded files or games.  
The Snowden documents also mention Flickr, Flixster and some Facebook applications.
The NSA has issued a statement that it is not interested in data other than "valid foreign intelligence targets." It goes on to state that "any implication that NSA's foreign intelligence collection is focused on the smartphone or social media communications of everyday Americans is not true."
GCHQ also commented, stating that all its activities were "authorised, necessary and proportionate."
Intelligence agencies use phone information and location to trace and track terrorists and other targets.
The NSA is believed to have spent more than $1 billion on improving its phone targeting methods.