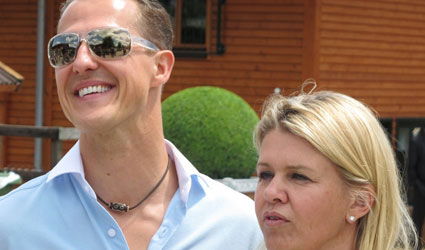 MICHAEL SCHUMACHER remains in an induced coma since his skiing accident a month ago.
There are concerns that he could possibly remain in a vegetative state for the rest of his life according to the German media. The newspaper Das Bild has stated that his condition is grave and there are currently no plans to wake him.
He has had two operations to relieve pressure on his brain; however it remains unknown whether he may have suffered any brain damage.
According to Jean Marc Orgogozo, Professor of Neurology at the Burdeos University, the longer he is in coma, the less the likelihood of full improvement.
The lack of official medical reports coming out of Grenoble hospital has lead to much speculation, but there was some small hope when doctors referred to Schumacher's condition as "stable" without the word "critical" attached, although no other details were added.
Hospital staff are ensuring that his limbs and joints are moved daily to avoid atrophy of the muscles.
As Formula One colleagues prepare for the new season to begin next month, Mercedes has printed a message saying 'Keep fighting Michael' on their new car during texts in Jerez.