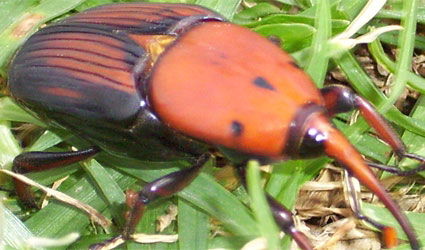 THE red palm weevil is a major destructive force to Spain's palm trees.
It is originally from tropical Asia, but has now spread to Africa and Europe and was first recorded in Spain in 1994.
The adult beetles are relatively large, ranging between two and five centimetres long. The female lays hundreds of eggs in the palms and the hatched larva causes the main problem. It excavates holes in the trunk of a palm tree which weakens and eventually kills the palm. The infestation of the pest can result in yellowing and wilting of palms and when leaves begin to wilt it is usually a sign that the palm has been infested for some time and by this point the damage is usually sufficient to kill the tree.
The weevil is now a major concern to palm plantations across Spain with many Town Halls and municipalities carry out regular checks and control procedures for the pest. If private owners spot or suspect the red palm weevil they should contact their local Town Hall who should be able to inform on the correct procedure for removing or treating the palm. Many also have a specialist department who will come out and look at the problem.