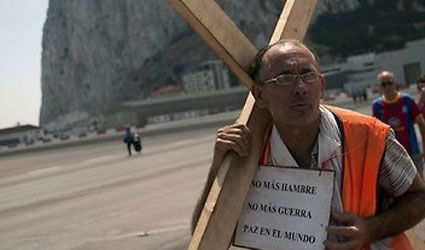 A NERJA resident who walked to Gibraltar carrying a wooden cross to end the conflict at the border last summer is back on the road.
Justo Marquez aims to walk the 2,300 kilometres from Motril, where he is now residing, to the Vatican asking for world peace.
He will set out for his journey on February 25 carrying the same wooden cross he took to Gibraltar.
The cross is three metres long, two metres wide and weighs 10 kilos.
Once there he intends to stay 15 days praying and fasting, asking God for world peace.
The 50-year-old started training for his journey in October, walking between 10 and 30 kilometres a day.
He plans to post on his Facebook page –'Con la cruz desde España al Vaticano'- everything that happens to him during his journey.