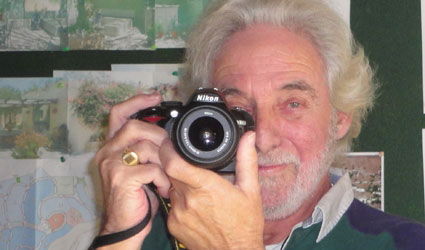 MOJACAR'S prestigious Golden Indalos have been announced.  One has gone to the popular, long time resident, Robert K Jones, photographer par excellent. 
Bob is in England now, but he has spent his last 40 years living here in Mojacar. He knows everyone and everyone knows and likes him.  Naturally, he has been a very popular choice.
 In the early years, Bob ran the famed Escalera Bar in Mojacar village for many years. Always so packed, it was impossible to get in so you had your drink on the steps outside. Years later, he managed the Casablanca above Los Arcos when it was a night club complete with the Bar Americain.  Subsequently, he spent many years later looking after the Rusty Nail.  Many of the old timers still view "The Nail" as Mojacar's most authentic and historical watering hole on the beach.
But in recent years, he could be seen most mornings at sunrise, walking along the beaches shooting sunrises or meandering near the Rio Aguas Laguna in front of Marina de la Torre Golf. He loved catching wildlife with his lens and used the new sunlight of an early morning to create a shot fit for National Geo. A routine scene to anyone else, Bob would add his own angle and come up with an imaginative way of immortalizing it on film. In the blink of an eye and click of the shutter, he'd have a memorable photo.
Many of his sunrise studies were submitted to national and regional TV stations wherein they were selected so often he made "Mojacar" a household name following the weather reports. Bob's bright and thoughtful photos made the nation keenly aware of Mojacar's glorious sunshine day after day. In the rainy north, they saw Bob's photos online and made trips to seek Spain's El Dorado of sunshine.
 Some of his current adaptations can be seen on his Facebook page. He continues to wow the world of photography. 
Bob has left some of his photos in Scottish Graham's Curiosity Shop located in the arcade along side Bar Los Arcos in the Guardia Vieja Complex. Come in for a look and an opportunity to buy one of these stunning images about Mojacar and now most certainly by Golden Indalo's top photographer. Other photos of OLD Mojacar can be viewed at the Rusty Nail or Jolly Lemon.
By Ric Polanski