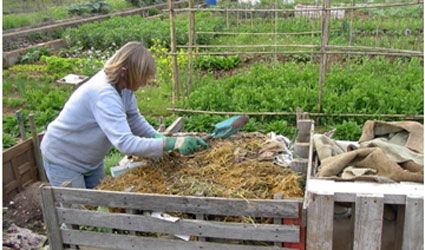 MANY gardeners have now started on the annual garden cutback and clean up as described in some detail in Chapter  6.9 of 'Your Garden in Spain'and all will have the problem of what to do with all the prunings weeds and leaves etc..
Some will be lucky that the local council collects bags of garden rubbish from each house each week and sends this away to a central burning or composting unit. Others have the possibility of driving a few kilometres to load their garden rubbish into hods or large containers at a green collection point. Others have no legal means of getting rid of garden waste other than obtaining a fire certificate and burning waste on the premises or recycling as much as possible back into the soil to add beneficial substances. This has happened in our village as the two other possibilities mentioned above are no longer legal or are proving too expensive in hard times.
If everyone went the route of burning then once idyllic clean air locations will be polluted as much as large cities and if plastic sacks are burned  intentionally or by accident gases with significant health risks will be released.
So what are the green and low cost options available?
Firstly build or buy one or two composters and compost as much kitchen and garden waste as possible. The amount that can be successfully composted can be increased significantly by using a shredding machine which are not expensive these days especially if you buy via EBay.
'Clodagh topping up a compost heap'
Secondly saw up all branches and use in wood burning fires or stoves. Fine prunings can be dried to provide kindling wood to help light fires.
Thirdly if you grow Spring edible peas,  decorative sweet peas or broad beans keep the straightest and partially bushy prunings to use as support sticks. A good source is the pruning of deciduous fruit trees.
Fourthly citrus leaves and cuttings take time to rot down but two things can be done. If a neighbour keeps rabbits citrus, and also olive, prunings are tasty treats. So organise that your neighbour can take sacks of your citrus prunings as immediate food or to be dried for later use.
Fifthly fairly dry waste material can be wrapped in a few sheets of newspaper in the form of a Christmas cracker or bag of sweets or chocolates tied with a ribbon or string to be used as firelighters or to be added to a lit fire at any time.
Sixth if you have an oleander or myporum  hedge build a 40 centimetre wall around the hedge and fill it with shredded waste. This will rot down and act as a mulch to reduce summer watering needs and provide recycled nutrients to keep the hedge healthy.
Fill in low areas of the  garden with garden waste, covering each year's infill with soil until the desired level is achieved.
Lastly make a pile of shredded material, cover it with soil and rocks and create a rockery without having to import soil.
All are practical but if you don't want the bother build or purchase a small incinerator and use it carefully away from hedges and overhanging trees.
Stop press
Having reviewed the title and cover of the book about the long 950 kilometre walk Clodagh and I made across Spain a few years past the book has been repackaged as 'Our 52 day retirement adventure along the Spanish Pyrenees.' It is now available from Amazon Booka as a traditional book and as a Kindle E-book.
© Dick Handscombe www.gardenspain.com  January 2014.