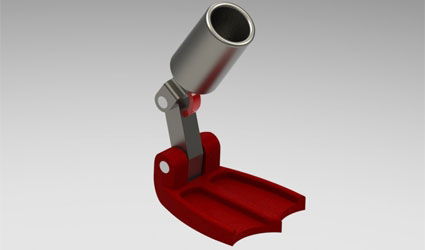 DUDLEY the duck, who hit the headlines in Canada and internationally last October thanks to his prosthetic leg, has taken his first steps on the fake leg.
Dudley and his brother were attacked by chickens sharing the enclosure; only Dudley survived, but lost his foot and part of his leg. Although he was still able to swim, he was struggling on the ground.
Terence Loring, a local man who had recently started up a 3-D print design company, was approached by friends to see if he could help; it became one of his first projects. He has teamed up with 3-D printers Proto3000 who have printed the leg for free.
The first design had a few small problems; the most recent has been much more successful.  Dudley's printed leg combines the upper leg and lower leg, with connecting pins. It is made of a soft flexible plastic, similar to rubber. In total, dozens of 3-D plastic legs were tested.
According to owner Debbie Fortin, Dudley the Duck is getting around better and his general health is improving.  When he first tried the prosthetic leg, he just started walking.