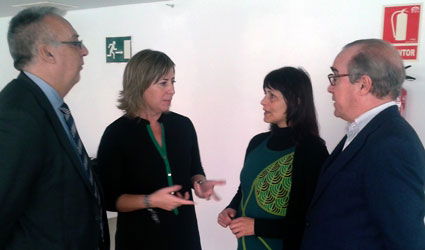 AVE passengers bound for Benidorm could soon be leaving the train at Villena instead of Alicante.
Benidorm mayor Agustin Navarro, Tourism councillor Gema Amor and Antonio Mayor, president of the Hosbec hoteliers' association, recently met Villena's Tourism councillor Mercedes Menor for talks.
Amor and Menor agreed that an AVE shuttle service between both towns, preferably with straight-through tickets, is "fundamentally important."
The high speed train between Madrid and Alicante city has a major drawback as passengers arriving at Alicante's new railway station must make their own way to Benidorm.
Those willing to pay the fare can pick up a taxi but there is no bus stop at the station and passengers have to make their way to the city's bus or tram station.
This situation is unlikely to change in the near future.  Alicante mayor Sonia Castedo is adamant that there will be no bus stop at the AVE station, causing friction not only in Benidorm but also Torrevieja.