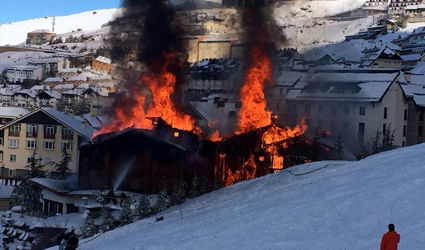 THESE exclusive photos (see photo gallery) show a dramatic fire that swept through one of the Sierra Nevada's most luxurious hotels this morning.
The El Lodge Hotel, owned by the Marbella Club, one of the coast's most enduring high society institutions, has been totally gutted by fire.
Thirty-two clients and 20 members of staff had to be evacuated, but no-one was injured, after the alarm was raised at 9.45am.
A spokesperson has said that the fire started on the top floor of the hotel, although the cause is not yet known. It was first registered at 9.45am, and the flames spread rapidly, as the hotel is the only one at the resort which is completely covered with wood.
Firemen who worked on putting out the blaze are investigating the origin and the owners are calculating the losses.
"Fortunately there have been no personal losses, as the hotel's safety protocol worked correctly and everyone was evacuated within minutes" the spokesperson said. The guests have been taken to other hotels to enjoy the rest of their holidays."
Now the cleanup operation and an investigation into the cause of the fire has already started.
El Lodge is one of the top hotels in Sierra Nevada and is sister hotel to Marbella's luxury Puente Romano Hotel.