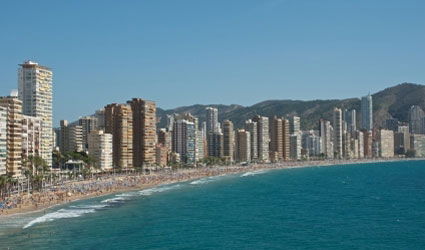 COMMUNITY police are at last patrolling Benidorm's Avenida del Mediterraneo and Rincon de Loix on foot.
These areas have the resort's highest concentration of British tourists, residents and business-owners and all have been calling for a greater police presence for some time.
Patrols would discourage the criminals and pickpockets who rob and dupe tourists, a spokesman for the British Benidorm association suggested at the end of last summer. 
They proliferate around Mercaloix in the Rincon, where scams range from "find the lady" operators to collectors for non-existent charities who target tourists.
With Community Police in the Avenida del Mediterraneo and Rincon de Loix, which overlap with the bars and discos of Benidorm's so-called "English zone," the con artists will now have a harder time of it.
The 10 members of thbe Local Police and two officers will coordinate with the 30 policemen who already patrol the Levante and Poniente beaches, Public Safety councillor Jose Vicente Marcet announced.
"It is vital to make direct contact with residents, patrolling the streets to gain their trust and establish an easy relationship with them," Marcet said.