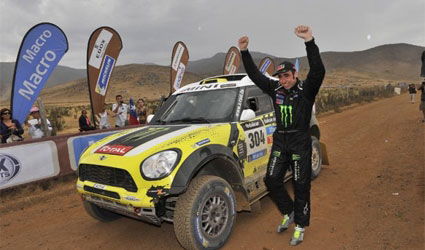 SPAIN once more shows their strength in motor sports, with wins at the Dakar Rally 2014 in both the car and the motorbike category.
Nani Roma came out at the front of the cars; with Marc Coma leading the motorbikes, followed by fellow Spaniard Jordi Viladoms in second place.
Nani Roma joins only two other competitors in the history of the rally to have won both in both car and bike at Dakar. Frenchmen Hubert Auriol and Stephane Peterhansel are the other two.
Roma first participated in the Dakar motorbike category in 1996 and was the first Spaniard to win it in 2004. After participating in the race 17 times, the last eight behind the wheel of a car, he has finally managed a win with the Mini X-Raid team.
Born in 1972 in Folgarolas, Barcelona, his first love was football but later he was seduced by speed and motorbikes.  He first made his mark on the Dakar in 2000 nearly winning the race after leading it for 8 stages and then having to accept defeat due to a motor problem. He has risen through the ranks to become this year's car winner.
Mark Coma has won his fourth motorbike Dakar in Valparaiso. The Spanish rider has been declared the winner after the last stage between La Serena and Valparaiso; he had an advantage of nearly two hours over the second place, which was held by another Spaniard Jordi Viladoms (also in the KTM team). In third place came Frenchman Olivier Pain (Yamaha).
DAKAR RALLY WINNERS:
CARS
1 – Nani Roma (ESP)
2 – Stephane Peterhansel (FRA)
3 – Nasser Al-Attiyah (QAT)
MOTORBIKES
1 – Marc Coma (ESP)
2 – Jordi Viladoms (ESP)
3 – Olivier Pain (FRA)
TRUCKS
1 – Andrey Karginov (RUS)
2 – Gerard de Rooy (NLD)
3 – Eduard Nikolaev (RUS)
QUADS
1 – Ignacio Casale (CHL)
2 – Rafal Sonik (POL)
3 – Sebastian Husseini (NLD)