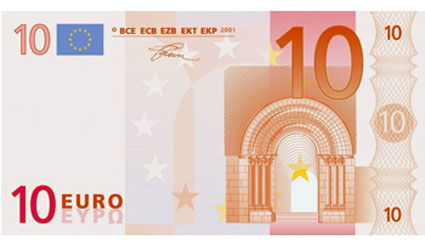 NEW €10 notes will come into circulation on September 23.
The new notes will be harder to forge and longer lasting, according to Yves Mersch, a member of the European Central Bank's Executive Committee.
New €5 notes came into circulation in May 2013, more than 10 years after the euro was first introduced. The European Central Bank has said that all notes will be changed in ascending order.
The new notes have a hologram and a watermark with the image of Europa, a character from Greek mythology, and they have a protective coat which will make them stronger, so that they have to be replaced less frequently, which will reduce costs and the impact on the environment.
They will have a number, the colour of which changes from emerald green to dark blue as the note is turned.