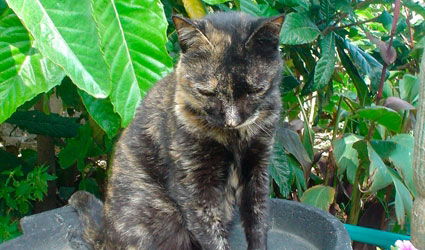 FIVE feral yet cared-for cats in a Playa de San Juan urbanisation face being put down. "The community wants to capture and kill the five cats in the shelter here," a Garden urbanisation resident revealed. 
The cats are looked after, vaccinated and neutered, she protested.  Furthermore, Playa de San Juan belongs to Alicante city, whose bylaws expressly refer to cat colonies, she told the local Spanish press. These recommend avoiding their "useless slaughter" and recognise that they do not spread disease.
Residents continuing to feed the cats have been told to expect retaliatory measures, the Garden resident claimed:  "A lot of people are frightened and feel threatened." 
Others living in the Garden's nine apartment blocks maintain that the sheltered cats, looked after by Block One residents, foul the urbanisation's public areas. 
Worse still, cats come in from outside, attracted by the food put out for the lucky five, explained Community Administrator Eduardo Luis de España.
Cat colonies in urbanisations are always a source of friction, agreed Raul Merida of Alicante city's Animal Shelter. But killing cats is illegal, he stressed.