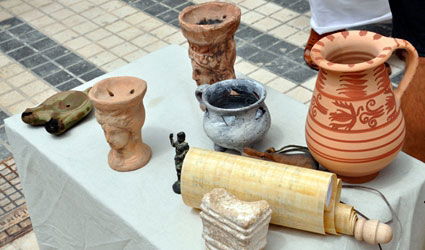 VILLAJOYOSA'S Vilamuseu logo is in the running for a design prize. The Avanti-Avanti Studio design for the archaeological museum has been nominated for a Brandemia 2013 prize in the "Best Spanish or Latin American trademark" category.
Vilamuseu is competing with 20 others, including Iberia, Levante Union Deportiva and Federopticos, the town hall revealed.
In the design, the words "Vila" and "Museu" are preceded by their Braille versions, emphasising the museum's commitment to inclusion, the designers explained.  Those unfamiliar with Braille will instead relate the dots to the monuments sited on routes set out by Vilamuseu, they said, as the logo conveys that Villajoyosa is an easily-accessible museum in itself.
Archaeologically speaking, Villajoyosa is the Marina Baja's most outstanding town, pointed out Culture councillor Pepe Lloret.  
"A third of the Assets of Cultural Interest (BICs) in the area's 18 municipalities are located in Villajoyosa," he said.   "Its monuments and archaeological sites also make it the 10th most important in the Valencian Community."