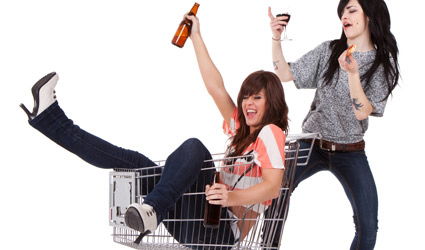 On New Year's Eve, ambulance trusts received one phone call every 15 seconds to deal with the results of binge drinking, with 1,500 calls in central London alone. And like the gigantic waves causing havoc to Britain's shores recently, liver damage is fast becoming one of the biggest threats to life, especially for the under-thirties.
Time and again on television, we see instances of anti-social behaviour by young people in town centres all over the UK where there's no longer any stigma in being drunk, disorderly and getting trollied. Why is this?
Firstly, aspirations have been destroyed by cheap credit and the loss of respect for money. Money's supposed to represent a token of work, effort, skill, experience and knowledge. What's this got to do with binge drinking you may ask? Well, if you're young, where's your stake in society? How can you develop long-term relationships and raise children when you've don't have the security of a roof over your head? Why bother working when you've no hope of getting a foothold on the housing ladder and knowing you can rely on generous benefits?
Secondly, being drunk has, like other types of anti-social behaviour, been allowed to become 'normal'. There aren't enough police; not enough time spent on catching criminals; not enough criminals serving full sentences. The police aren't even managing antisocial behaviour, let alone enforcing the law. 'Normal' behaviour for the rest of us has been sacrificed on the funeral pyre of 'rights'. We stopped having to be responsible and started demanding our 'rights'. Responsible behaviour's not even encouraged. Try protecting yourself against a burglar/ attacker and you'll get yourself arrested. Try getting a noisy pub shut down and you'll get nowhere.
Thirdly, we live in an age of instant 'celebrity' where the worse you behave, the more coverage you get. The more coverage you get, the 'greater' celebrity you become so, whatever you do, it gets reported because you are 'someone'. And, far from being embarrassed by having their names in the local press, most young people doubtless regard it as a badge of honour.
And to return to my question in the second paragraph: lack of discipline and too little responsibility brought on by easy money over a generation is my answer to the 'why'.
Nora Johnson's thrillers 'Retribution','Soul Stealer','The De Clerambault Code' (www.nora-johnson.com) available from Amazon in paperback/eBook (€0.89;£0.77) and iBookstore.Profits to Cudeca